Henagar Police Department received a call Thursday, March 23rd at approximately 6:27 pm reporting that a female subject had been shot.  Henagar PD and DeKalb County Sheriff's Office responded to the scene and located the female that had been shot.

After arriving, officers and deputies gave medical aid to the female and transported her to Erlanger Medical Center. The subject reportedly fled into a nearby wooded area.  Authorities established a perimeter and blocked off roadways to secure the safety of others and the community.  The DeKalb County Sheriff's Office Special Response Team located the subject in the wooded area and taken into custody.

Joseph Earl Cobb (62 of Henagar) was arrested and charged with Assault 1st and Shooting into an Occupied Dwelling.  The investigation is ongoing and more charges are expected.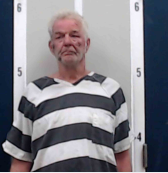 Joseph Earl Cobb (62 of Henagar)
DeKalb County Sheriff Nick Welden said of the incident: "It's unfortunate something like this has happened in a small town like Henagar.  We ask you to keep the families and this lady in your prayers as she recovers.  We appreciate the response by all surrounding Law Enforcement Agencies.  The public will never know how these situations have to be handled to ensure their safety, as simple as blocking roads and visiting homes to ensure they lock their doors and stay vigilant during these operations we are conducting.  Everyone plays an extremely important role and this proved just how important it is apprehending someone and working together to do so all while keeping others safe."
"Huge Thanks to Chief Randall Smith, Henagar PD Officers, Ider PD, DeKalb EMA, Henagar Fire Department, DeKalb County Sheriff's Office Special Response Team Unit and ALL others who assisted and offered to assist.". 
"When you have something like this take place it's amazing at the response you have from ALL emergency personnel in DeKalb County, that's a definition of TRUE PUBLIC SERVICE!"
"God Bless!" Concluded Sheriff Welden.